Yemen's warring sides agree to a truce
Comments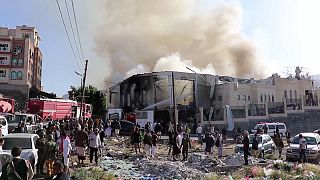 The UN has announced a ceasefire between Yemen's warring parties which is to start Wednesday night local time. The truce will be for an initial 72 hours.
I remind all parties that CoH includes obligation to allow free unhindered access for humanitarian supplies &personnel to all parts of Yemen

— UN Envoy to Yemen (@OSESGY) October 17, 2016
The announcement comes after Yemen's foreign minister wrote on Twitter that President Abd Rabbuh Mansour Hadi had agreed to the truce if Houthi rebels came on board and also agreed to lift the siege on the city of Taiz.
The President agreed to a 72 hrs ceasefire to be extended if the other party adheres to it, activates the DCC & lifts the siege of Taiz.

— عبدالملك المخلافي (@almekhlafi52) October 17, 2016
Hadi's exiled government has been requesting humanitarian access for Taiz, which has been encircled by Houthi rebels who overran Yemen's capital Sanaa in 2014.
The truce announcement comes after the United States, Britain and the UN called on Sunday for a ceasefire in the wake of a deadly Saudi-led airstrike on a funeral which killed 140 people. Riyadh's Foreign Minister Adel al-Jubeir has said Saudi Arabia will back the truce and investigate the funeral attack.
"Yes it's a terrible tragedy and we expect that people will be held accountable and punished. We expect that compensation will be paid to the victims. Whoever is responsible for the death of 140 people must be held accountable. There is no but, if, where, or what."
Saudi Arabia and Gulf Arab allies have carried out air strikes on Iran-backed Houthi rebel positions and deployed troops in Yemen in support of Hadi's government since March last year.
The conflict in Yemen has killed almost 6,900 people, wounded more than 35,000 and displaced at least three million since March last year, according to the United Nations.