UNESCO passes controversial Jerusalem resolution
Comments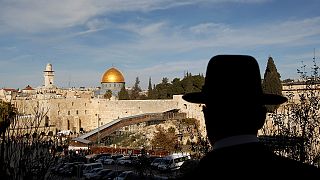 The UN's cultural body UNESCO has adopted a contentious resolution heavily criticising Israel's activities at holy sites in East Jerusalem.
The motion refers to the area known to Jews as Temple Mount and to Muslims as Haram al-Sharif.
Israeli officials reacted with fury, claiming the resolution denies the Jewish religion's deep historical connections to the site.
Israel's UNESCO ambassador Carmel Shama Hacohen accused Palestinians of playing games:
''We will not negotiate and we won't take part in this ugly game. There is no place for these games here in UNESCO. This noble organisation was established to preserve the history, not to rewrite it.
The Arab-backed resolution condemned Israel for restricting Muslims access to the holy complex in East Jerusalem, and for aggression by Israeli police and soldiers.
The Palestinian Deputy Ambassador to UNESCO, Mounir Anastas welcomed the decision: "This resolution just reminds Israel that they are the occupying power in East Jerusalem and it asks them to stop all their violations, especially in the fields of competence of UNESCO."
The holy site, which was taken by Israel in the 1967 six-day war, has been a flash point of Israeli-Palestinian violence in recent years.
Israel froze ties with UNESCO last week when the resolution, which was entitled ''Occupied Palestine'', was passed at the draft stage. That draft repeatedly used only the Islamic name for the complex, which includes the Western Wall, considered the holiest site in Judaism.