Iran jails American-Iranian father and son for 10 years for 'spying'
Comments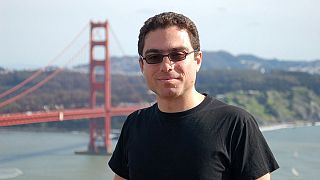 Iranian media say six people have been sentenced to 10 years prison for spying and cooperating with the United States. They include an Iranian-American businessman and his 80-year-old father, who also has dual citizenship.
We have continually raised the plight of all US citizens who we believe are unjustly detained

US State Department spokesman
Siamak Namazi, who is in his mid-40s, was arrested a year ago while he was visiting his family in Tehran. Born in Iran and educated in the US, he worked as a business consultant in Iran for several years, most recently for Crescent Petroleum, an energy company in the United Arab Emirates.
His father Baquer was detained last February after coming to Iran to try to secure his son's release. Baquer Namazi worked for UNICEF in several countries, and was a provincial governor in Iran under the former shah's regime.
Washington has said it is deeply concerned at the reports and has called for all Americans held in Iran to be freed.
"We have continually raised the plight of all US citizens who we believe are unjustly detained by the Iranian authorities, and the Namazis are no exception," said US State Department spokesman Mark Toner. "We are especially concerned about his father who has had some health issues and we believe should be released immediately."
US deeply concerned about reports US citizens Siamak & Baquer Namazi have been sentenced to 10yrs in prison in #Iranhttps://t.co/0raA7tZ20G

— Department of State (@StateDept) October 18, 2016
Earlier this year Baquer Namazi's wife said he had a serious heart conditions and other medical issues requiring special medication. UNICEF has now called for his release on "humanitarian grounds".
Babak Namazi, Siamak's brother and Baquer's son, called the sentences unjust. "My father has been handed practically a death sentence," he said in a statement, which also claimed the pair were each given a single court session lasting a few hours.
Iran's Mizan news agency, which reported the events, posted a video online featuring a strong anti-American theme in which Siamak Namazi appears to be shown being arrested. The video also contains images of Washington Post reporter Jason Rezaian, who was one of four Iranian-Americans released from Iranian jails in January as part of a prisoner swap with the United States.
With deep sadness & concern UNICEF learns former colleague Baquer Namazi sentenced to 10 years in prison in #Iranhttps://t.co/zkHjE9W6oG

—

UNICEF

Media (@UNICEFmedia) October 18, 2016
Conservative media in Iran had denounced links between Siamak Namazi and the National Iranian-American Council, a non-governmental organisation based in Washington created by Iranians living in the United States to encourage the normalising of relations between the two countries. The family have been accused of trying to bring about change in Iran by helping foreign NGOs.
Washington and Tehran have not had formal diplomatic relations since the 1979 Islamic revolution that toppled the US-backed shah.
Analysts say the nuclear deal with the West and potential thaw in relations have alarmed hardliners among the authorities, particularly in the judiciary and security forces.
Many Western delegations have reportedly arrived in Tehran to discuss possible trade and investment deals. Dozens have been arrested, including Iranians holding joint American, European or Canadian citizenship.
According to analysts, the arrests have undermined attempts by President Hassan Rouhani to revive Iran's business and political ties with the West, as well as push for political and social reforms at home.
Two Iranian-Americans were just sentenced to 10 years in Iranian prison. https://t.co/jKqEkCg9DK

— Foreign Policy (@ForeignPolicy) October 18, 2016