French court rejects plea for more time before Calais camp closure
Comments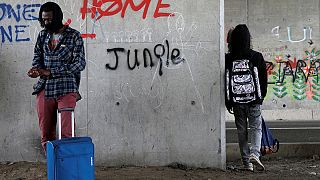 A French court has rejected an attempt by a group of charities to block the imminent closure of the so-called "jungle" migrant camp in Calais.
It refused to allow a request for more time to organise rehousing of the thousands of refugees who are living there.
French authorities are expected to clear out the 6,000 to 8,000 migrants from the camp in the coming days. They are to be relocated in centres around France or
deported.
French court rejects bid to halt Calais camp demolition: A group of French charities failed Tuesday in a last… https://t.co/UI2P4VIIgC

— halfhournews (@halfhournews) October 18, 2016
Charity chief Christian Salome of "L'Auberge des Migrants" said he was not against the dismantling per sa, "but we are against the way it is being done, putting people on coaches and sending them off to welcoming centres, because for those who don't belong there it's useless, they's just return, it's a waste of time."
vulnerable
On Tuesday France transfered another dozen teenagers to Britain as efforts to rehouse vulnerable migrants accelerated before the camp's closure.
10 child #refugees out of 1200 arrive in #UK from #Calais. Charities protest demolition of 'jungle' camp continues https://t.co/p1QOxh8NIC

— Razan Ghazzawi (@RedRazan) October 17, 2016
The UK has agreed to accept scores of unaccompanied youngsters who have family ties in Britain, but the charities want more time to organise things before the camp closes.
numbers
It is not known exactly how many children will be brought to Britain. The British interior ministry has said 80 children had been accepted for transfer from France so far this year under EU family reunification rules known as the Dublin regulation.
The Red Cross estimates that 1,000 unaccompanied children are living in the Jungle, of whom 178 have been identified as having family ties to Britain. It has said some of these children have been held back by bureaucracy.
Separately from the Dublin process, Britain has sent out a team to work with the French authorities to identify children who can be brought to Britain under the terms of a change to British immigration law known as the Dubs amendment.
It states that Britain will take in "vulnerable unaccompanied child refugees" who arrived in the EU before March 20, even if they do not have relatives in Britain.