US and UK call on Syria and Russia to end siege of Aleppo
Comments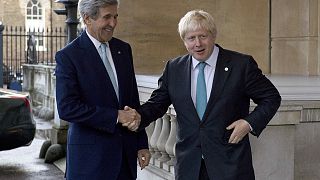 The United States and Britain have called on the Syrian government and Russia to show mercy amid the on-going bombardment of Aleppo.
Following diplomatic talks in London, US Secretary of state John Kerry and his British counterpart Boris Johnson urged Moscow to do the right thing by humanity and end the barbaric siege of the city.
"The real answer I'm afraid lies with those who are perpetrating it; and that is overwhelmingly the Assad regime and its puppeteers in the form of the Russians and the Iranians. And it is up to them to seize this moment to recognise the opportunity and in my view, show greatness and show leadership," UK Foreign Secretary Boris Johnson said.
Describing the siege of Aleppo as the worst humanitarian crisis since the Second World War, Kerry also warned Moscow that the fighting in Syria will not end without a political solution, even if Aleppo falls.