Trump challenges Clinton to drug test ahead of next presidential debate
Comments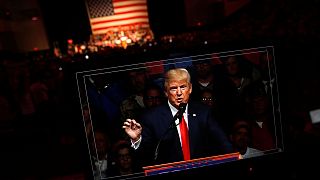 Donald Trump has challenged his Democratic rival to a drug test before the next presidential debate.
The embattled Republican nominee told a crowd of supporters in New Hampshire that the election was rigged, and suggested, without providing evidence, that Clinton was using performance-enhancing drugs when they last sparred.
"We should take a drug test prior, because I don't know what's going on with her. But at the beginning of her last debate, she was all pumped up at the beginning, and at the end, it was like, 'oh, take me down.' She could barely reach her car. So I think we should take a drug test. Anyway, I'm willing to do it."
Trump is trailing Clinton by 7 percentage points in the most recent polls, and a new analysis found she was likely to clinch the 270 Electoral College votes needed to secure the presidency.
Multiple allegations of sexual assault have been levied against Trump. His campaign has spent the last week answering allegations that he made unwanted sexual advances toward them. The reality TV star suggested the women who made the accusations may be doing it for fame. He also suggested it was a coordinated attack to take him out of the running for the White House.
With 23 days left in the race, Clinton's campaign could suffer a setback with the release of the latest batch of hacked emails by Wikileaks on her relationship with Wall Street.
The documents showed comments she made in question-and-answer sessions with executives from Goldman Sachs. Over the last week Wikileaks has been publishing what it says are hacked emails from Clinton's campaign chairman John Podesta.
In one email Clinton staff highlighted sections which could pose problems such as on regulating Wall Street, she had apparently said people who work in the industry know best.