Trump takes aim at the press as White House campaign struggles
Comments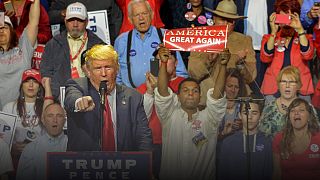 Die-hard supporters are standing by their man but Donald Trump's road to the White House is looking rockier than ever.
Up to his neck in sexual misconduct scandals, the embattled Republican has stepped up his attacks on a favourite target – journalists.
''The chaos surrounding Donald Trump's campaign has unleashed the candidate further," Euronews correspondent Stefan Grobe reports from Washington.
"Following the most recent reports of women being sexually assaulted by Trump, he has resorted to more extreme denunciations of the press in general. Not only has he threatened the New York Times to sue for libel, he also accused reporters of participating in a vast global conspiracy.
"At a rally in Florida yesterday, he kept lashing out at journalists to the point that an angry crowd turned against the people in the press pen, calling them all kinds of insulting names.
"Trump's vilification of the media prompted the Committee to Protect Journalists to issue a warning that Trump is a threat to the freedom of the press, unknown in modern history. Meanwhile, Trump has already identified a culprit should he lose the election: a rigged system – and the media."
Donald Trump's campaign has consistently betrayed 1st Amendment values. His presidency would threaten press freedom. https://t.co/ocXcbDt2d8

— CPJ (@pressfreedom) 14 octobre 2016
Trump's presidential campaign has been scrambling to recover from the release a week ago of a 2005 video in which he bragged about groping women and making unwanted sexual advances. While Trump said the video was just talk and he had never behaved in this way, multiple women subsequently went public with allegations of sexual misconduct against the New York real estate magnate going back three decades.
Trump has furiously denied the allegations, saying that The New York Times, which published two women's claims, and other media, along with his Democratic rival Hillary Clinton, are engaged in a vicious campaign to stop him from winning the Nov. 8 election.
He also accuses the media of not giving enough coverage to the WikiLeaks scandal surrounding the Clinton campaign.
Very little pick-up by the dishonest media of incredible information provided by WikiLeaks. So dishonest! Rigged system!

— Donald J. Trump (@realDonaldTrump) 12 octobre 2016
This speaks volumes about the RIGGED mainstream media. pic.twitter.com/zeppbcdqKy

— Official Team Trump (@TeamTrump) 14 octobre 2016
A Trump supporter left behind this sign on media table in press pen. Shows swastika with word "media" pic.twitter.com/egrMm4shgl

— Jim Acosta (@Acosta) 13 octobre 2016
The allegations of sexual misconduct have been a turning point for some in the party who were already uneasy about Trump's unorthodox campaign, and a string of Republican officials have distanced themselves from him since the lewd video emerged.
The most senior of them, House of Representatives Speaker Paul Ryan, angered Trump when he announced this week he would no longer campaign for Trump or defend him but would focus on trying to preserve the Republican majorities in Congress in next month's election.
Trump has slipped further back from Clinton in national opinion polls in the past week. A Reuters/Ipsos survey this week showed him 8 percentage points behind Clinton among likely voters.
with Reuters