Nice prepares to pay tribute to Bastille Day attack victims
Comments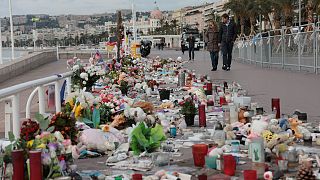 French flags and notes of condolences in many languages are reminders of the grief that still hangs over the popular tourist spot.
One resident who works on the Promenade des Anglais says every time she walks along the street she is reminded of the tragedy.
Nice is preparing to honour the memory of the victims of the brutal Bastille Day attack. A ceremony led by the President was pushed back to Saturday due to bad weather.
In July, the seafront of Nice turned from a place of celebration to a scene of horror, when a man driving a truck plowed through crowds watching fireworks on Bastille Day. Eighty-six people were killed.
At one of the makeshift memorials Mary Kininmonth, a tourist from Scotland said, "People deal with things in different ways. People need somewhere to go to express their feeling and their sadness. It is not glorifying it, it's just remembering in a nice way, having somewhere to go."
France remains under a state of emergency since the attack in Nice.