Turkey's holiday resort of Antalya hit by rocket attack
Comments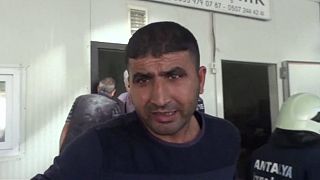 Turkey's holiday resort of Antalya has reportedly been hit by a triple rocket attack.
No one was hurt in the strike but the missiles struck a fish market and warehouse.
The attack on the coastal city came as four Turkish soldiers were reportedly killed and around a dozen wounded in three separate roadside bombings in the east of the country.
"While we were handling the fish, three rockets hit, one after another. We all lay down. Thank God, nobody was hurt. Three rockets hit the opposite end of the shelter while we were lining up the fish," one worker inside the warehouse said.
Reports say the missiles were fired from a mountainous area outside Antalya.
It's thought an off shore fuel tanker may have been the intended target.
The motive for the attack is still unclear, but Turkey has been subjected to a series of recent bombings by both ISIL and Kurdish PKK rebels.