Newspaper hits back at Trump's threat to sue

Lawyers' sarcastic and cutting response to billionaire Donald Trump's threats to sue The New York Times has proved popular online.
David McCraw, NYT lawyer, responds to Trump's letter. pic.twitter.com/ziPBCIjkvP

— Sydney Ember (@melbournecoal) October 13, 2016
In it McCraw dismissed claims the article had libelled Trump, by pointing out, to a fellow lawyer, what libel actually was.
"The essence of a libel claim, of course, in the protection of one's reputation," he wrote. "Mr Trump has bragged about his non-consensual sexual touching of women. He has bragged about intruding on beauty pageant contestant in their dressing rooms. He acquiesced to a radio host's request to discuss Mr Trump's own daughter as a 'piece of ass'."
Trump said at a rally on Thursday he was preparing a lawsuit.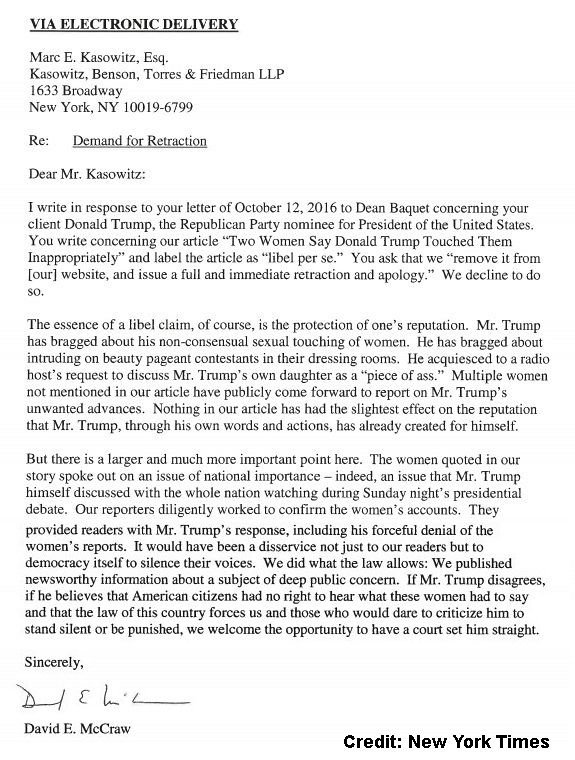 If the newspaper did not comply, Trump, who says the allegations are fabricated, would 'pursue all available actions and remedies' lawyer Marc Kasowitz said in a letter.
It comes as news agency Reuters claimed Trump hasn't sued a newspaper for libel in three decades, despite the Republican presidential nominee repeatedly threatening to do so over the course of his business career.
Over the years, media outlets including the Wall Street Journal, the Village Voice, the New York Post and Fortune Magazine have reported receiving similar threats from Trump or his representatives in advance of unflattering articles, reported Reuters.
However, Trump rarely makes good on those threats, according to a Reuters review of court dockets in the database of online legal research service Westlaw, a unit of Thomson Reuters.