Israel suspends cooperation with UNESCO
Comments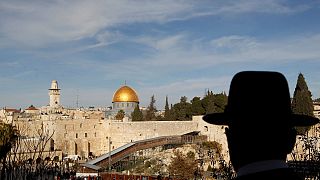 Israel has suspended cooperation with UNESCO. It follows the move by the UN's cultural and heritage body to renew a resolution condemning Israel for restricting Muslim access to the old city in east Jerusalem.
The draft text repeatedly referred to the site, known to Jews as Temple Mount and to Muslims as the al-Aqsa compound, by only its Muslim name.
The motion prompted fury in Israel, with the country's Prime Minister arguing it amounted to a denial of Jewish history.
''With this absurd resolution, UNESCO has lost what little legitimacy it had left, but I believe that the historical truth is much stronger and will prevail,'' Israeli PM Benjamin Netanyahu said.
The resolution, which is up for formal approval next week, also accused Israeli police and soldiers of agression towards Muslims at the holy site which has been a flashpoint of Israeli-Palestinian violence.
Put forward by Arab states, the motion was approved by 24 votes, six against and 26 abstentions.