French right-wing face off for the conservative presidential nomination
Comments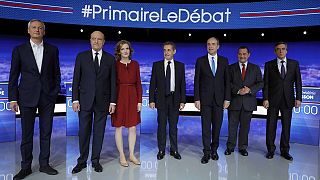 French right-wing rivals faced off in the first presidential primary debate to decide the conservative nomination.
They sparred over taxes, the burkini and national identity in a two-hour TV show that produced few fireworks.
Former president Nicolas Sarkozy promised strong leadership after five years of Socialist rule. Sarkozy was facing many of the former ministers in his government, who took pleasure in cutting him down to size. When discussions turned to the multiple judicial investigations into alleged corruption and fraud, the former leader responded, "If I had been put under formal investigation, I wouldn't have run (in this election)."
Polls showed that the front-runner and former prime minister Alain Juppe was the most convincing in the debate.
The candidates will get another chance to make a dent in Juppe's lead, with two more televised debates scheduled before the first round of primaries on November 20.
With analysts predicting a second-round run-off in 2017 presidential elections with far-right Marine Le Pen, the winner of the conservative nomination is being touted as the next likely president of France.