Germany: Outrage over suicide of Syrian terror suspect
Comments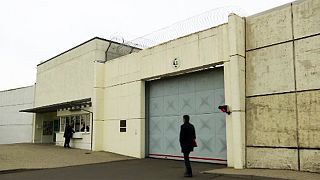 German officials are under fire over the suicide of Syrian terror suspect Jaber Albakr, whose death deprives authorities of precious information.
He didn't behave normally. That worried me

Albakr's lawyer
The refugee, 22, hanged himself with his T-shirt in a prison cell in Leipzig on Wednesday night, in between half-hourly checks.
Facing calls to step down, Saxony's State Justice Minister Sebastian Gemkow, a member of Chancellor Angela Merkel's conservatives, told a news conference the suicide "should never have happened".
But he denied authorities had made any mistakes.
"Conversations were held with the suspect to get a picture of his personality," Gemkow told reporters.
"Later, an assessment was made by the psychological service of the detention centre. No acute suicide risk was determined."
The Syrian, who arrived in Germany in February last year, appeared calm and was monitored at 15 minute intervals. These were lengthened to 30 minutes despite Albakr pulling a lamp in his cell out of its fitting and tampering with a plug socket.
Politicians respond with shock and dismay after #Albakr's Leipzig jail death #Chemnitzhttps://t.co/Adl0R0yStepic.twitter.com/eSlBz4Sxf9

— dwnews (@dwnews) 13 octobre 2016
Albakr's defence lawyer, Alexander Huebner, has denounced a "judicial scandal", saying that he is "totally shocked" that something like this could happen.
"I knew he was nervous and up to something," Huebner said.
"He didn't behave normally. That worried me. Of course, when you get the news, you are shocked and you ask yourself if you have done everything you can or if you could have done more – if you should have stayed longer with him at the prison and talked to him for longer. "
Huebner said Albakr's suicidal tendencies had been well documented, adding that his client decided to go on hunger strike directly after his arrest on Monday.
Al Bakr, suspected of plotting to bomb an airport in Berlin, was the target of a two-day manhunt after explosives were found at an apartment in the city of Chemnitz.
He was found in Leipzig where a group of fellow Syrians had tied him up at their flat and alerted the police.