Germany: Catholic Church to pay compensation to Regensburg abuse victims
Comments
By
Euronews
with
SüDDEUTSCHE ZEITUNG, SPIEGEL ONLINE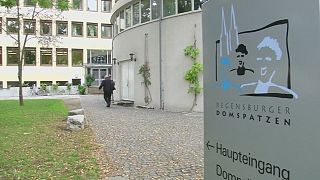 The Catholic Church has agreed to pay compensation to victims of physical and sexual abuse which took place while they were pupils at a famous boys' choir school in Regensburg, Germany.
Rudolf Volderholzer, the Bishop of the Regensburger Cathedral in Bavaria, has formally apologised. He says the Church will pay between 5,000 and 20,000 euros to each of the affected former students for abuses between 1953 and the 1990s.
Pope Benedict's brother, Georg Ratzinger, ran the choir for 30 years from 1964 to 1994, when the majority of the abuses reportedly occurred. He told Italian daily La Repubblica that he knew nothing about the alleged abuse of boys in the choir.
Some 422 possible victims have come forward, including former chorister Alexander Probst.
"An acknowledgment has been made," he said. "Now I know: I'm no longer the one who is damaging the reputation of this bishophood, but I am an equal partner who is being respected. So, it doesn't matter what the outcome is. It's much more important that this acknowledgment has been made."
Another former pupil said all the perpetrators except one are now dead, but the one living suspect will be put on trial.