Mercedes celebrate third constructor's title in a row
Comments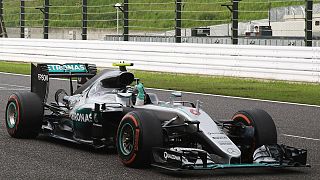 The Mercedes formula one team has been celebrating its third constructor's title in row at the stable's High Performance Powertrains headquarters in Brixworth, England.
Most of the facilities' 500 staff were joined by Head of Motorsport Toto Wolff and chairman Niki Lauda, along with drivers Lewis Hamilton and championship leader Nico Rosberg.
"It's a special feeling. I'm very, very proud and I just said to all the Mercedes staff actually that it makes such a difference; it makes it even more exciting and enjoyable my sport for me because I go into a race track now I know that I can get pole and win the race wherever we go, you know, and it's a great feeling," said Rosberg.
Rosberg now holds a 33 point lead over Hamilton and doesn't even need to win another race to take the title. Has Hamilton left it too late to win a fourth crown?
"Just looking forward. We've still got four races to go. I've got an incredible amount of support and we want to finish off strongly for all these guys here and for the guys back at Brackley who have been working so hard all these years and that's the goal," said Hamilton.
Mercedes have been utterly dominant in recent years but Formula One will make major rule changes again next season, although it is unclear if any other team has the firepower to challenge the German outfit in the short term.