Trump and Clinton trade insults in bitter presidential debate
Comments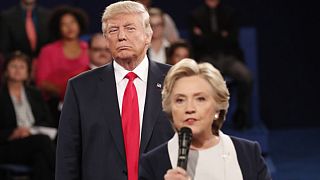 Donald Trump has dismissed obscene remarks he made about women in a 2005 video which came to light on Friday as "locker room talk".
The Republican presidential candidate was forced to defend himself almost from the start of the second televised presidential debate with his Democratic rival Hillary Clinton.
The mood began in a combative style and continued that way with both candidates trading insults.
"It's not only women and it's not only this video that raises questions about his fitness to be our President because he has also targeted immigrants, African Americans, Latinos, people with disabilities, POW's (prisoners of war), Muslims and so many others. So this is who Donald Trump is," said Clinton.
Trump also went on the attack against Clinton raising the email scandal which has dogged her campaign.At one point her even threatened to put her in jail if he became president.
"If I win I'm going to instruct my Attorney General to get a special prosecutor to look into your situation, because there has never been so many lies, so much deception, there's never been anything like it (…) The people of this country are furious. In my opinion, the people that are long time workers at the FBI are furious," said Trump.
The debate had a town hall-style format, with undecided voters posing about half the questions along with two moderators.
For a full 90 minutes the two candidates clashed on a series of topics battling over taxes, healthcare and US policy in Syria.
The bitter tone never eased possibly reflecting what was at stake. Trump has seen several major Republicans abandon him over his recent remarks about women prompting pundits to view the debate as make or break time for his campaign.
Im very proud of HillaryClinton</a> tonight. It was a very uncomfortable debate. When he went low, she went high. <a href="https://twitter.com/hashtag/imwithher?src=hash">#imwithher</a> <a href="https://twitter.com/hashtag/debate?src=hash">#debate</a></p>&mdash; Jessica Chastain (jes_chastain) October 10, 2016
Congrats to my running mate realDonaldTrump</a> on a big debate win! Proud to stand with you as we <a href="https://twitter.com/hashtag/MAGA?src=hash">#MAGA</a>.</p>&mdash; Mike Pence (mike_pence) October 10, 2016