Donald Trump's running mate "cannot defend him"
Comments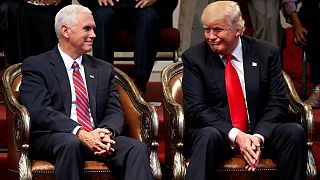 Even the Republican's Vice Presidential nominee Mike Pence failed to come to Donald Trump's aid after a recording of him making lewd comments about groping women was watched across America.
In a tweet the Indiana Governor had this to say:
"As a husband and father, I was offended by the words and actions described by Donald Trump in the eleven-year-old video released yesterday. I do not condone his remarks and cannot defend them," Pence said in a statement. "I am grateful that he has expressed remorse and apologized to the American people. We pray for his family and look forward to the opportunity he has to show what is in his heart when he goes before the nation tomorrow night."
It took nearly 24 hours before she did but even Trump's wife Melania said she felt offended by the video.
Whilst she stated that "the words my husband used are unacceptable and offensive to me," she stood by him, adding that "this does not represent the man that I know."
Trump himself also suggested that his comments were out of character.
"I've never said I'm a perfect person nor pretended to be someone that I'm not. I've said and done things I regret and the words released today, on this more than a decade old video, are one of them," he said in a video released by his campaign. "I was wrong and I apologize.
Nineteen Republican politicians have now disowned Trump, saying they'll not support him any longer.
They include nine Republican from the House of representatives, seven Senators and the governors of three states.
In total more than 60 prominent Republican current and former officeholders issued statements condemning Trump's remarks about women, including more than 20 who called for him to end his presidential bid.
Trump is due to appear alongside Democrat Hillary Clinton on Sunday night in their second debate in the runup to the general election. Clinton is not expected to address Trump's video before then.
Trump has struggled to win over women voters, and the video is expected to further feed Democratic criticism about his past behavior toward women. Trump's support has suffered among suburban women and white, college-educated women, groups that Republicans have traditionally won.