A defiant apology from Trump over lewd comments about women
Comments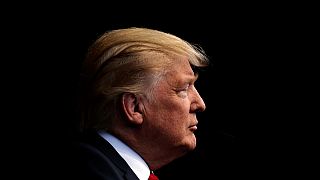 Donald Trump is in full damage control mode after the Washington Post released a video where he makes lewd comments about women.
He released a recorded apology pledging to be a better man before launching an attack on his opponent.
"Let's be honest we're living in the real world. This is nothing more than a distraction from the important issues we're facing today. We are losing our jobs. We're less safe than we were eight years ago. And Washington is totally broken. Hillary Clinton and her kind have run our country into the ground. I've said some foolish things but there is a big difference between the words and actions of other people," he said in the video message.
In a video from 2005, the Republican presidential contender talks of how his star power meant he could grope females and make aggressive sexual advances on a married woman.
The disclosure of the tape comes at a critical time, with the second presidential debate scheduled for Sunday night, and many Republicans are scrambling to distance themselves from him.
Paul Ryan cancels event with Trump tomorrow, but won't say whether he continues to endorse him #TrumpTapepic.twitter.com/aRkBoGJRlo

— Laura Sesana (@lasesana) October 8, 2016
I'm horrified by #TrumpTape news. realDonaldTrump</a> campaign is a poisonous mix of bigotry & ignorance. Enough! He needs to step down.</p>&mdash; George E. Pataki (GovernorPataki) October 8, 2016
Some analysts say it could be 'game over' for Trump. However, it is not the first time the end of his political ambitions has been predicted, and previous controversial remarks have failed to shake supporters from his side.
What difference does it make in 2005 what Trump said?. How many people died? What wars did it cause? #PodestaEmails#TrumpTape#BillyBush

— Kambree Kawahine Koa (@KamVTV) October 8, 2016