Iconic film director Andrzej Wajda dies
Comments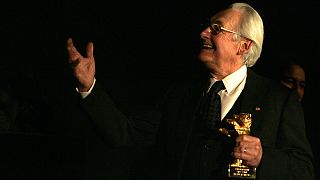 The day of the Palme was a very important day. But I was aware that his prize was not just for me. It was also a prize for the Solidarity union

Acclaimed Polish film director, 1926-2016
The acclaimed Polish director Andrzej Wajda has died at the age of 90.
He died in hospital on Sunday night.
His films are seen as reflecting his country's turbulent history, manoeuvring between a repressive communist government and an audience yearning for freedom.
Poland's most distinguished film director Andrzej Wajda has died tonight. He was 90. His film "Afterimage" is Poland's entry to Oscars 2017. pic.twitter.com/QqWhbl7MMo

— Jakub Krupa (@JakubKrupa) October 9, 2016
A life in film
Wajda only became a filmmaker after being turned down by the army in 1939.
He was a pupil of the prestigious Łódź film school.
His career took off after he won the jury special prize at Cannes in 1957 for Kanal, about the doomed 1944 Warsaw uprising by Polish partisans against the Nazis.
Oscar-winning film director Andrzej Wajda from Poland dies at 90: However, his career took shape … https://t.co/qZ9uDVXJYk#Cannes2016

— Cannes Film Festival (@cannes) October 10, 2016
Awards
Wajda's last film, "Afterimage" was recently chosen as Poland's official entry for the 2016 Oscar for best foreign language film.
Awards
Palme D'Or (for Man of Iron, 1981)
Oscar for lifetime achievement (2000)
Nominated for Academy Award
The Promised Land
The Maids of Wilko
Man of Iron
Katyn
A full filmography can be found here
What they are saying
"The day of the Palme was a very important day in my life, of course. But I was aware that his prize was not just for me. It was also a prize for the Solidarity union," – Wajda said in an interview in 2007.
Andrzej Wajda, director of Man of Marble, Katyn, has passed away. His life and films have both shown and made Poland's history. Great loss.

— Radosław Sikorski (@sikorskiradek) October 9, 2016