Lithuanians vote in parliamentary elections dominated by scandals
Comments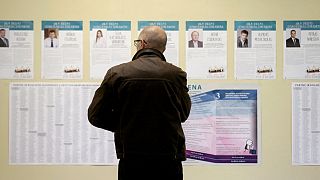 Lithuanians are heading to the polls to vote for a new parliament.
The ruling Social-Democrats are fighting for survival after the election campaign was dominated by scandals and pledges to raising living standards.
And the arrival of Russian nuclear missiles in neighbouring Kaliningrad just a day before the vote has rattled nerves in Vilnius.
Opinion polls show the main parties neck-and-neck: the prime minister's leftists on 15% and the centrist Peasant and Greens Union on 14%.
Analysts say 20% are still undecided, meaning recent scandals could sway them. In the last month, two ministers survived no-confidence votes.
A second round of voting will be held on October 23.