Deadly truck bombing in Turkey at military outpost
Comments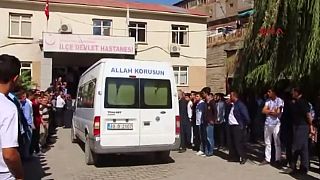 A truck bombing at a military outpost has killed at least 18 people and wounded dozens more in Turkey.
Ten soldiers and eight civilians died in the blast when suspected Kurdish militants detonated a five-tonne truck bomb in the south-east of the country.
The attack occurred the Durak station, 20km from the town of Semdinli, on the border with Iraq and Iran.
The Hakkari province is one of the main flashpoint areas in the conflict between Ankara and the militant Kurdistan Workers Party or PKK.