Russia denies US cyber attacks
Comments
By
Euronews
with
Reuters, BBC, National Inquirer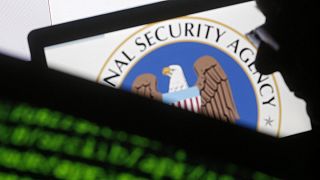 U.S. accusations that Russia was responsible for cyber attacks against Democratic Party organizations lack any proof and are an attempt by Washington to fan "unprecedented anti-Russian hysteria," the Foreign Ministry in Moscow has said.
Unprecedented anti-Russian hysteria
The U.S. government for the first time on Friday formally accused Russia of a campaign of cyber attacks against Democratic Party organizations ahead of the Nov. 8 presidential election.
Washington's relations with Moscow are also under strain over the war in Syria and Russia's actions in Ukraine.
"This whipping up of emotions regarding 'Russian hackers' is used in the U.S. election campaign, and the current U.S. administration, taking part in this fight, is not averse to using dirty tricks," Deputy Foreign Minister Sergei Ryabkov said on Saturday in comments on the ministry's website.
Late on Friday, the Kremlin called the U.S. allegations "nonsense". "There is no proof whatsoever for such grave accusations," Ryabkov said.
"(They are) …fabricated by those who are now serving an obvious political order in Washington, continuing to whip up unprecedented anti-Russian hysteria."
Ryabkov reiterated an offer to Washington, first made last year, to hold consultations on fighting cyber crime together.
But in a tweet influential Republican Senator Cory Gardner, who chairs a congressional committee on cybersecurity, said: "I plan to introduce legislation mandating the Administration sanction Russia's bad actors who are responsible for malicious cyber activities."
When Hillary Clinton was campaigning against rival Bernie Sanders to be the Democrat's presidential candidate, emails from the party's national committee were leaked which showed that party officials were biased in favour of Clinton.
Moscow is eager for Donald Trump to win, mainly because he'd be more likely to lift economic sanctions that were imposed against Russia when invaded Ukraine.