Obama casts early presidential vote in Chicago
Comments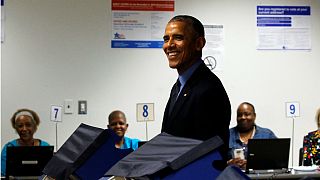 Barack Obama has already cast his vote in the US presidential election, which doesn't take place until November 8.
He used a visit to his home town of Chicago to go to the polls, leading by example after urging people to register and vote.
In jokey mood, he would not confirm who he did actually vote for.
But the president has previously endorsed his former secretary of state and Democratic candidate Hillary Clinton, warning against a Donald Trump presidency.