Manhunt in Germany for Syrian bomb suspect
Comments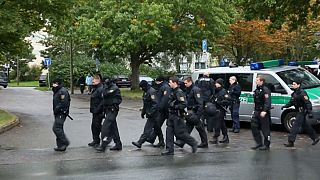 An urgent manhunt is underway for a Syrian man after police found traces of explosives at his flat in the east German town of Chemnitz.
The apartment block has been evacuated and people living nearby have been urged to stay indoors as the hunt continues.
Hundreds of police and commandos are desperate to find the man whom they've named as 22 year old Jaber Albakr.
He's believed to have arrived in Germany from Syria last year.
Police haven't yet said whether they suspect Albakr is planning an attack or what the target might be.