President of Colombia Juan Manuel Santos wins the 2016 Nobel Peace Prize
Comments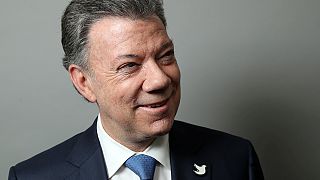 Colombian President Juan Manuel Santos has won the 2016 Nobel Peace Prize for his efforts to end the country's civil war.
It comes as a surprise after the peace deal he negotiated with the FARC rebels to end 52 years of conflict collapsed when voters narrowly rejected it in a referendum earlier this week.
Santos said he vowed to continue to work for peace until his last day in office
The Nobel committee said it hoped the prize would 'give him strength to succeed in this difficult task.'
This is the press conference, when Santos was announced as the winner.
It was a rare win for South America, which trails Europe, Asia, Africa and North America: