Matthew powers towards Bahamas and Florida
Comments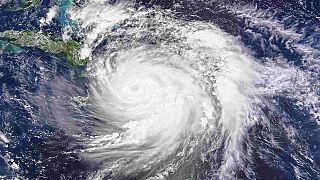 After battering Cuba, Haiti and the Dominican Republic, Hurricane Matthew, the fiercest Caribbean storm in almost a decade, is powering towards the Bahamas and Florida.
The UN says the hurricane has created the worst humanitarian crisis to hit Haiti since the devastating earthquake in 2010.
Matthew has brought floods and 230 kilometre-an-hour winds.
Evacuations
Hundreds of thousands of people were evacuated from the path of the storm.
Four people died in the Dominican Republic while six lost their lives in Haiti.
Florida
South western Florida is under hurricane and tropical storm warnings as the eye of Hurricane Matthew moves off the north eastern coast of Cuba.
The storm is about 30 kilometres north west of the eastern tip of Cuba, with winds of up to 215 kilometres an hour.
The hurricane – the most powerful in the region since 2007 – is expected to turn towards the north west.
The National Hurricane Center says it is likely to strengthen in the coming days.
Cuba
There are no immediate reports of deaths, casualties or major damage in Cuba.
The Cuban government has spent days organising volunteers to get rsidents to safety and secure property.
The storm thrashed the tourist town of Baracoa in the province of Guantanamo, passing close to the US naval base and military prison.
State media say Santiago de Cuba, the second-largest city which lies on the south east of the island, was not badly hit.
Threat to life and property is "high"
The National Weather Service is warning that the threat to life and property in the Bahamas and Florida is high.
Storm-force winds of up to 115 kph and 10 cm of rain are predicted for parts of the area.
Officials in the Bahamas have urged residents to evacuate to higher ground. Government offices have been closed until further notice.
Hurricane and storm warnings have been extended along the east coast of Florida.
South Carolina has declared a state of emergency.
More than a million people have been ordered to evacuate from their homes.
Downgraded
Matthew was a Category Four hurricane on Tuesday.
However, it has been downgraded to a Category Three storm on Wednesday by the National Hurricane Center.