Dizzying footage of a cat being rescued from a 12th story ledge
Comments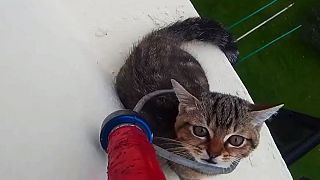 The Society for the Prevention of Cruelty to Animals (SPCA) in Singapore released footage yesterday, October 4, of a rescue attempt in which a cat had become stuck on a ledge 12 stories high.
After receiving a call from a concerned member of the public who lived in the apartment block one of the SPCA's officers attempted to catch the animal using a 'rescue rod', but it was able to slip free numerous times before finally being pulled to safety.
The organisation has reported that the cat has been reunited with its owner.