Boat of pro-Palestinian activists blocked by Israeli forces from entering Gaza
Comments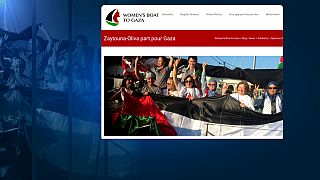 A sail boat manned by 13 pro-Palestinian female activists has been intercepted near the coast of Gaza as it attempted to break through a blockade imposed by Israel in 2007.
The so-called 'Women's Boat to Gaza' had sailed from Barcelona in Spain on September 14. It passed through Italy en route to the Palestinian territory in an attempt to cross through the nine-year-old barrier and raise awareness of it.
A spokesman for the Israeli Defence Force said the boat had been redirected to the Israeli port of Ashdod to avoid breaching maritime law, after all diplomatic channels had been exhausted.
Gazan activist Adham Abu Silmeyyeh appeared to disagree.
"It's a pure act of piracy the Israeli navy has carried out against a ship sailing under a Netherlands flag, on a humanitarian mission in international waters.
"What happened is an act of terror and piracy against all rules of international law. It amounts to a war crime perpetrated by Israel against 13 international activists. We do not know anything about them so far because contact has been cut off since then."
The activists, which include international parliamentarians, a Nobel Prize laureate, an Olympic athlete and a retired US Army colonel, are expected to be deported back to their home countries.
Relations remain tense between Israel and the Palestinian Territories, with a recent exchange of air strikes and rocket fire
reportedly wounding at least one person.