Hurricane Matthew makes landfall in Haiti with life-threatening rains, winds and storm surges
Comments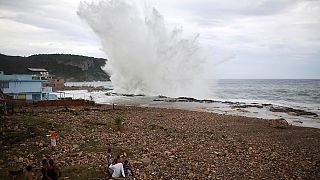 The most powerful hurricane in nearly a decade is wreaking havoc in the Caribbean. Hurricane Matthew has hit Haiti, Jamaica and is heading towards Cuba, and its path could put it on a collision course with the south-east coast of the United States.
Classed category 4 out of a possible 5, winds speeds were hitting up to 280km per hour as it made landfall in Haiti.
At least two people have been killed and one person is missing. Thousands of residents have been evacuated to get them out of the path of the monster winds and floods.
On the island of Jamaica, tourists had front row seats as the hurricane took shape. The US agency for international development has set aside 400,000 dollars in aid for Jamaicans and Haitians affected by the extreme weather and catastrophic floods.
In Cuba, 11.2 million people lie in the storm's path. Residents are being evacuated from low-lying areas.
It is expected to make a direct hit on Guantanamo, home to the controversial US Naval Base and prison. Washington ordered the evacuation of 700 spouses and children of military personnel.
It is also the country's second coffee producer, and the storm poses a serious threat to the harvest.