Hurricane Matthew batters the Caribbean
Comments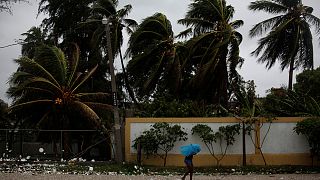 Haiti
Hurricane Matthew is bearing down on Haiti.
Towns and villages are bracing for "catastrophic" floods and mudslides that forecasters fear will be triggered by the storm's 230 kph winds and a metre of rainfall.
Where is the hurricane now?
Winds and rain have begun to pick up in the southwest of the Caribbean nation.
The US National Hurricane Center says the centre of the intense Category 4 storm was due late Monday evening.
11pm ET update: Hurricane Matthew strengthens with 145 mph winds as it nears Haiti https://t.co/TDrJn8LF0cpic.twitter.com/KUD6Ymnf1Y

— BuzzFeed Storm (@BuzzFeedStorm) October 4, 2016
Is anywhere else affected?
Matthew is forecast to hit Cuba and the Bahamas on Tuesday.
The main airports have been closed in Jamaica and Haiti.
Evacuation operations are underway in Cuba. Tourists in the eastern town of Santiago de Cuba have been moved inland and told where to shelter in hotels during the hurricane.
The storm may also reach Florida by Thursday as a major hurricane.
It is one of the most powerful Atlantic hurricanes in recent history and was about 155 km south of the westernmost tip of Haiti at 0300 GMT on Monday.
Matthew is expected to drop between 30 and 101 cm of rain on parts of the island.
International Space Station shows Hurricane Matthew from space – video https://t.co/qT06l9cBVE

— Guardian World (@guardianworld) October 4, 2016
Is Haiti particularly vulnerable?
Yes.
Haiti is the poorest country in the Americas.
A combination of weak government and precarious living conditions for most of its people make it particularly vulnerable to natural disasters.
More than 200,000 were killed when a 7-magnitude earthquake struck Haiti in 2010.
Many survivors are still living in flimsy, temporary accommodation.
Haiti is also prone to flash floods and mudslides because most of its hillsides have been stripped bare by people cutting down trees to make charcoal to sell for fuel.
Precautions
The authorities are ferrying 3,000 people off Ile-a-Vache by helicopter. The low-lying island is off Haiti's southwest coast.
Interior Minister Francois Anick Joseph says 30,000 are affected.
150,000 also need to be moved to safety from Haiti's largest slum, Cite Soleil in the capital, Port-au-Prince.
Hurricane Matthew drenches Haiti, threatens catastrophe as a Category 4 storm https://t.co/NaMFlTcWNapic.twitter.com/v4gjuAcBiu

— Yahoo News (@YahooNews) October 4, 2016
What they are saying
"It has the potential to be catastrophic," – Dennis Feltgen, meteorologist
"After the hurricane, we will be miserable. We'll be hungry..the houses will be destroyed," – 44-year-old resident Rosette Joseph.