Church in France reopens after priest murder by jihadists
Comments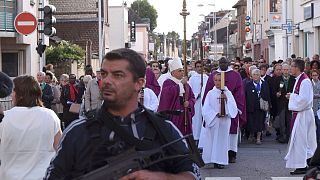 The church in north west France where Father Jacques Hamel was murdered by alleged Islamist militants in July has reopened to the public for the first time.
Following a procession ceremony a special mass was held designed to purify the alter where the 85-year-old was knifed to death.
It was also announced that Pope Francis has agreed to expedite the sainthood process after describing the priest as a martyr.
Usually a miracle needs to have been declared for a candidate for sainthood to be beatified. But that requirement can be waived if there is evidence that the person died a martyr.
Last month, during a mass in memory of the dead priest, Francis used the words martyr or martyrdom 10 times in his homily at the Vatican.