Cairocomix exhibition opens in Cairo
Comments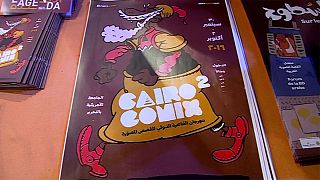 Few outsiders would associate Cairo with comedy nowadays, given all the political upheaval Egypt has endured.
Comics and cartoons are really speaking out

Journalist and curator of comics
But Cairo is renowned in the Arab world for producing comic stars and so it's very appropriate that an exhibition titled Cairocomix has gone on display there.
مسابقات كايروكوميكس للقصص المصورة لعام ٢٠١٦
الجائزة الكبرى:رحلة لمهرجان أنجولام بفرنسا https://t.co/4uDopsPOf9pic.twitter.com/OpfEr7mJtB

— CairoComix (@CairoComix) September 2, 2016
One comic afficionado at the exhibition said there's never been a greater need for comedy in Egypt than now.
"There is a tremendous energy to what's happening here. We have this energy maybe a bit in other countries, but because of the changes in society, the big political challenges that Egypt is facing, the whole region is facing, comics and cartoons are really speaking out, really saying things that need to be said. They are occupying a very important role," Paul Grammett a journalist and curator of comics, said.
Enrique Klaus, a researcher in the Middle East, outlinede what comedians in the Arab world most need to thrive. "The needs of the comics are acknowledgment, recognition from the public as a major art, not an art which is directed to children. There are a lot of needs in terms of commercial developments," he told Euronews.
Many of the comics whose work are on display have resorted to funding themselves and said that publishers need to be more daring and give them a platform beyond an exhibition.