The 11th edition of Les voiles de Saint Tropez draws to a close
Comments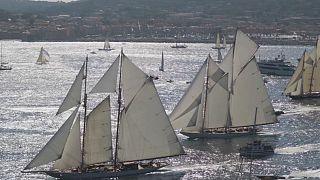 Tens of thousands of fans have travelled to the South of France to see one of sailing's most glamorous events, Les Voiles de Saint Tropez. Approximately 300 boats took part in this year's race, which kicked off on the 24th of September.
"The oldest boat taking part in the regatta is 120 years old," explained the head of Saint-Tropez's Nautical Society André Beaufils. "It is well maintained, of course, and I think that this is what many of these boats have in common. Owners here are passionate and work hard to keep their boats in perfect condition."
"Here at Les Voiles de Saint Tropez, we have a century of experience," said skipper Loïck Peyron. "The most competitive boats are the oldest ones. They were the quickest back in the days and were seen as 'futuristic' at the time. The new boats are pleasing to the eye but can't compete with these older boats which I am proud to navigate."
After a relatively slow start to the race, Moonbeam IV stepped it up a gear to clinch the 11th edition of the Rolex Cup. Skipper Michael Creach produced a superb display to edge out Moonbeam III by two points with Hallowe'en having to settle for third place.
Les Voiles de Saint-Tropez – photos of classic & modern by SimonJCLeBON</a>. Go <a href="https://twitter.com/PaneraiOfficial">PaneraiOfficial, #RegatesRoyalespic.twitter.com/Fv1dpWs1W5

— Duran Duran (@duranduran) September 30, 2016