Pope holds mass in Tbilisi as Orthodox Church stays away
Comments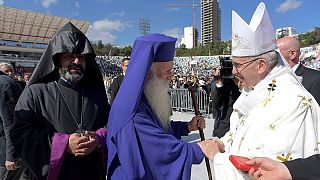 Pope Francis celebrates Mass with just a few thousand Catholics in Georgia, one of the smallest crowds the pontiff has drawn in 16 trips abroad.
With a capacity of 25,000, the stadium saw a turnout of just 3,000 faithful as a delegation from the Orthodox Church snubbed the event.
The country is majority Orthodox, with just 1 per cent practising Catholicism, but for those that did show up, it was a special moment.
"First of all I'm very flattered and happy, that Georgia has merited such an honour and we are being visited by the pope. He is visiting our country, Tbilisi and celebrated Holy Mass here. In my opinion, this is a very important and joyful day for all of us," one woman attending the service told a reporter.
Another member of the public said,"He is a true pope, he is not just a religious figure, but also a very political figure. This visit will raise the profile of Georgia on the world stage."
Under Francis' leadership, the Vatican has made efforts to improve ties with Orthodox Christians. However, a delegation of Orthodox priests chose to protest against the papal visit, calling it a 'spiritual aggression'.