Thailand confirms first Zika-related microcephaly cases
Comments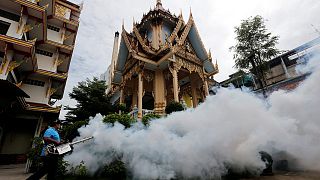 Thailand has reported its first confirmed cases of Zika-related birth defects.
The announcement of two cases of microcephaly, a defect marked by small head size, comes a day after the US warned pregnant women to postpone non-essential travel to Southeast Asian countries due to risk of the mosquito-born Zika virus.
The World Health Organisation (WHO) said the cases were the first of Zika-linked microcephaly in Southeast Asia, and that the virus represented a serious threat to pregnant women and their unborn children.
The link between microcephaly and Zika was first discovered last year in Brazil, which has since confirmed more than a thousand cases it believes are linked to the virus.
More than 300 cases of Zika have been confirmed in Thailand since January, including 33 pregnant women.