Canada triumph on home ice at World Cup of Hockey
Comments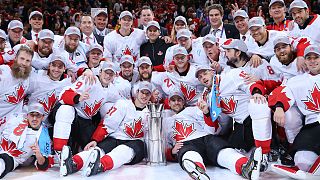 Sidney Crosby cemented his status as one of hockey's finest after he captained Canada to a second consecutive World Cup of Hockey title.
Canada came from behind to beat Team Europe 2-1 in Game two on home ice in Toronto to seal the best of three finale 2-0.
Europe – which consisted of a mix of player from eight countries took the lead in the first period thanks to veteran defenseman Zdeno Chara of Slovakia.
That lead held up for most of the game, and just as Europe thought they might have done enough to push the final to a third game Canada's fifth power play delivered the equalizer.
Crosby dropped the puck back to Brent Burns whose long range effort was redirected into the net by Patrice Bergeron.
With just under a minute of the match remaining the Air Canada Centre erupted in wild celebrations.
On the break Jonathon Toews set up Brad Marchand, who beat Europe's goaltender Jaroslav Halak with a wrist shot to seal the win and Canada's second straight title after their success in the last edition in 2004.
Reigning two time Olympic champions Canada lived up to their favourites tag and went through the entire tournament unbeaten.
Crosby, meanwhile, led all players in points and was named the tournament's most valuable player.