And also...Dangerous selfies, nuns tie the knot and a Spanish porn star mocks the establishment
Comments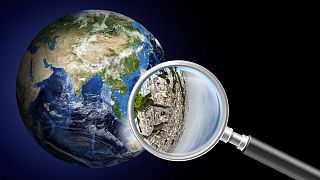 Every Friday journalists from euronews' various language teams choose a selection of stories from Europe and beyond which did not reach the international headlines.
Ridding La Rambla of Christopher Columbus
A statue of Christopher Columbus that stands at the foot of Barcelona's famous La Rambla street could be no more if a group of anti-capitalist councillors get their way. They want rid of the monument, saying that the city shouldn't appear to celebrate the navigator's colonial legacy.
The memorial has been part of Barcelona's skyline since 1888. Three councillors are calling for it to be torn down along with "all the decorations at the base of the column that glorify the conquest of America and its 'museumification' through historical interpretation".
Els còmplices de la Hispanitat https://t.co/BpmKn2i8ze Quim Serra i Toro, historiador i conseller de CUPBarcelona</a> <a href="https://t.co/ULActFM6fA">pic.twitter.com/ULActFM6fA</a></p>&mdash; CUP #sensepor (cupnacional) 27 Σεπτεμβρίου 2016
Avui emparmoliner</a> ha lamentat que estàtues humanes i venedors ambulants no s&#39;ofeguin al mar. <a href="https://twitter.com/sindicatomanter">sindicatomanterEstatuesHumanas</a> <a href="https://t.co/BCtOvmQSSj">pic.twitter.com/BCtOvmQSSj</a></p>&mdash; CUP Capgirem BCN ♀ (CUPBarcelona) 27 Σεπτεμβρίου 2016
---
Counterfeit 'Cognac' proves deadly in eastern Ukraine
At least 23 people have died after drinking counterfeit 'Cognac' in Ukraine, according to local authorities.
Eighteen died in the eastern region of Kharkiv and another five in and around Donetsk.
Deaths from counterfeit alcohol are rare in Ukraine, reports AFP, in contrast to neighbouring Russia, which sees thousands of deaths each year from the practice.
---
Italy: Former nuns criticise church's position on homosexuality as they tie the knot
Former Franciscan nuns Federica and Isabel have tied the knot in Italy after the country passed a law allowing same-sex civil unions.
They held their nuptials 24hrs ahead of schedule in Pinerolo's city hall to avoid a media circus. They did however, take the opportunity to criticise the Church's stance on homosexuality. Federica told the Italian paper La Stampa, "God wants people to be happy. "We call upon our church to welcome all people who love each other."
The pair met and feel in love while working at a rehabilitation centre for drug addicts.
Pinerolo (Torino), due ex suore si sposano https://t.co/DwvLifm2a9 via LGBTNewsita</a></p>&mdash; LGBT News Italia (LGBTNewsita) 28 Σεπτεμβρίου 2016
---
Iceland switches of city lights for aurora borealis
Reykjavik announced it would switch off street lights in selected parts of the city to allow city dwellers to enjoy the Northern Lights on Thursday 29 September.
Street lights would be off between 10pm and 11pm in various districts of the Icelandic capital. In order to reduce light pollution as much as possible, residents have also been asked to switch off their lights.
Iceland's capital city switched off its street lights last night — so people could watch the Northern lights https://t.co/NAyr1z3xuj

— IanVisits (@ianvisits) 29 Σεπτεμβρίου 2016
According to my pal Björg, they are turning off the lights in #Reykjavík tonight to enjoy the #NorthernLights

---

City acts over tiny 6 sq m 'pigeon nest' flats

A Chinese city has blocked the sale of flats so small they have been dubbed ''pigeon nests'.

Authorities in Shenzhen acted over the six square-metre apartments, described as a 'kitchen-cum-bathroom' with a fold-down bed priced at 117,635 euros.

Several major Chinese cities have seen soaring house prices, including Shenzhen which has seen a hike of nearly 63 percent.

---

Indian man bitten by python whilst posing for selfie

Posing for a selfie with a python, Ashok Bishnoi was bitten by the captured creature after getting too close.

Forest department officials promised to act after the incident.

Deputy Conservator of Forests, K.G. Shrivastav said, "Clicking selfies with the snake and releasing the photos publicly is an offence under the Wildlife Act and we will issue notice to all involved in this incident."

---

Tom Hanks crashes a New York wedding

Actor Tom Hanks made two lovebirds' special day that little bit more magical after crashing a wedding photo shoot during a run in Central Park, New York.

Elizabeth and Ryan! Congrats and blessings! Hanx. pic.twitter.com/Uy2GIqYphU

— Tom Hanks (@tomhanks) September 24, 2016

The bride and groom looked delighted as the Oscar winner took selfies and posed for photos with them before jogging off.

---

Norway reports rise in number of polar bears shot as tourist numbers are up

On Norway's remote Arctic islands, the number of polar bears being shot is on the rise. The increase is being blamed on global warming reducing the amount of sea ice they can roam on, as well as the rise in visitors who could come into contact with the animals.

Polar bears are a protected species and they can only be shot in self-defence. Outside the settlement of Svalbard residents are required by law to carry the means to defend themselves.

As Norway's Arctic draws visitors, more polar bears get shot #environmenthttps://t.co/QWEh5kvFq8

— Alexandre Bonotto (@axbonotto) 28 Σεπτεμβρίου 2016

Erotic show promotion video depicting Spanish society becomes viral

Barcelona's Erotic show communication's team has made headlines again with a video describing Spanish society as "hypocritical".

Titled "Patria" (Homeland) and starring porn actress Amanda Miller it denounces the double standard of people that at the same time insult her (calling her a whore) and also buy the porn films she makes. It also criticizes "a country against corruption but voting in the same politicians" or "that saves the same banks that evict families".

The video has been widely shared.

Podemos' party leaders Pablo Iglesias and Iñigo Errejon gave it a boost by sharing it on Twitter.

Barcelona's erotic fair is the most important of its kind in Europe.

Rodilla en tierra AmarnaMiller</a> Nada de rendirse ✊ <a href="https://t.co/CuWBXsOZI1">https://t.co/CuWBXsOZI1</a></p>&mdash; Pablo Iglesias (Pablo_Iglesias_) 27 de septiembre de 2016

Esta tarde me dirijo a alguien que podría salir en este vídeo, a Fernández Díaz. Algunos no nos rendimos, @AmarnaMiller

---

Sources