Video: Skydivers attempt swing world record
Comments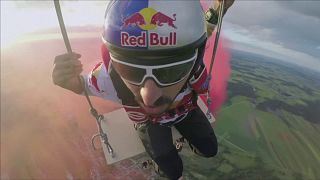 Perfect weather conditions high up in the sky above Austria greeted the Red Bull Skydive team, who this week attempted to set a new world record for the longest swing in the world.
Two hot air balloons took the team to just over 1,500 metres.
The daredevils jumped off one balloon and swung from the other which served as an anchor, for 125 metres – taking the old playground favourite to new heights.
After completing the swing the divers flipped off and parachuted to the ground.
The Red Bull Mega Swing's attempt at the world record is awaiting official approval.