Power restored in South Australia after state-wide black out
Comments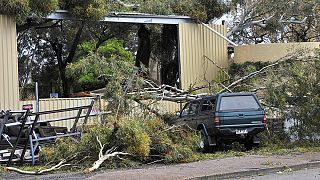 Severe storms which left South Australia without power on Wednesday are set to intensify, as political recriminations fly over the black out.
The unprecedented outage halted mining production, closed ports and left hundreds of thousands without electricity
after winds ripped 22 transmission towers from the ground. A power surge led the system to protecting itself by shutting down.
Power has been restored to 90% of the state, but industrial areas north and west of Adelaide are still without electricity.
State premier Jay Weatherill warned that worse weather was on its way. The Bureau of Meteorology warned that more strong winds (up to 140km/h) and heavy rains were to be expected. State Emergency Services chief officer, Chris Beattie urged people to leave work early if possible.
Prime Minister Malcolm Turnbull blamed the state's heavy reliance on renewables for the black out, while the opposition said he was playing politics with a natural disaster.