Egypt migrant boat sinking: number of dead surpasses 200
Comments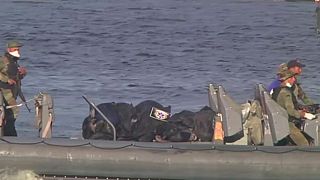 At least 33 more bodies have been recovered from a migrant boat which sank off the Egyptian coast last week, raising the confirmed number of dead to 202.
But, uncertainty remains over how many people might still be missing.
Survivors say the boat – which was en route to Italy – was carrying between 450 and 600 people when it capsized around 12 kilometres off the port city of Rosetta.
"I ask those in power, the president himself, to pay more attention to the poor who are neglected, who because of the high cost of living, the lack of money and income, are willing to throw their lives away; throw themselves into the sea," a local fisherman said.
Egypt's military, which raised the wreck of the migrant boat on Tuesday, says more than 160 people were rescued.
The vessel was transporting Egyptian, Syrian and migrants from several African countries, when it went down.