[360° video] Flying high at the Coupe Icare
Comments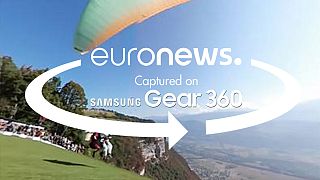 Fancy dress, aerial stunts and breathtaking views – the Coupe Icare has it all.
And Euronews was there to capture it all in 360° video
The event, at St Hilaire du Touvet, in southeast France was the 43rd edition of the free flight festival which sees paragliders, paramotors, hand gliders, hot air ballons and many more high fliers provide entertainment for thousands of spectators.
To explore the 360° video use your mouse or swipe around the screen.
Trouble viewing the video? Watch it on Euronews' VRIDEO channel