Houston gunman wore military-style clothing during fatal attack - police
Comments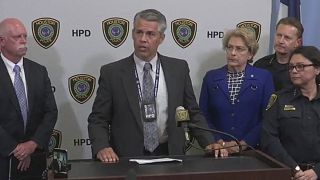 Police in the US state of Texas said a gunman who shot and injured at least nine people on Monday was wearing military-style clothing at the time of the attack.
"He was wearing military style apparel," Houston Police Homicide Captain Dwayne Ready told reporters. "I don't know exactly what nationality, what army or anything like that. We did find some old Nazi emblems about some of his merchandise, not merchandise but his personal effects. And understand there are also some where he lived. To what extent that played I don't know, because there's also other — what I would refer to as historic or vintage military stuff — within the apartment going back to the Civil War."
The gunman, who has been described as a "troubled lawyer," opened fire on morning commuters before being fatally shot by police.
The police bomb squad secured the gunman's car. Inside the vehicle, more than 2,600 rounds of ammunition were found. Police say a handgun was found on the suspect's body and a rifle was found in his car.
An official said the firearms had been bought legally.