Venice canal comes to life amid noisy protest against large cruise ships
Comments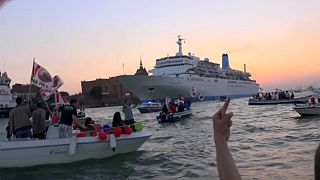 Venice was the scene of a colourful and noisy protest on Sunday as a small armada of boats turned out to draw attention to large cruise ships which are allowed to pass through the Italian city's canals.
A Thompson Celebration cruise ship became the object of the demonstrators' disapproval. Yet at 33,000 tonnes, it was actually one of the smaller liners to pass down the central Giudecca canal each day.
The protesters – residents and environmentalists – argue that increasing cruise ship traffic damages the fragile city, one of the world's most popular tourist destinations.
In 2013 a law was passed banning the largest ships, of over 96,000 tonnes, from crossing the canal – and the number of smaller ships was limited to five a day.
But the legislation was overturned at the end of last year, since when protests have been on the rise.