Suspect held over deadly US shopping mall shooting
Comments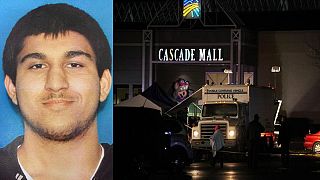 A 20-year-old immigrant from Turkey has been detained over a gun attack at a US shopping mall that left five people dead.
Arcan Cetin was arrested on Saturday, the day after the fatal shooting in the town of Burlington, Washington State, sparked a major manhunt.
Legally resident in the US, Cetin was quickly identified as a suspect, including from surveillance footage of a vehicle, filmed in the vicinity of the Cascade Mall where the massacre took place.
OFFICIAL: Here is a DOL photo of the suspect: Arcan Cetin, 20-yr-old Oak Harbor resident. pic.twitter.com/fypj6aBBJ2

— Sgt. Mark Francis (@wspd7pio) 25 septembre 2016
He was captured walking down a street in Oak Harbor, his home community some 50 kilometres southwest of Burlington.
The motive for the shooting in the cosmetics section of a Macy's department store is unknown.
The gunman initially walked into the shopping centre without the rifle he used but surveillance video later caught him brandishing the weapon, said Lieutenant Chris Cammock of the Mount Vernon Police Department at a briefing on Saturday.
The rifle was subsequently recovered at the mall, said Cammock, commander of the Skagit County Multi-Agency Response Team.
A man and four women were killed, including a 16-year-old who had survived cancer as a young girl, according to US media reports.
Sarai Lara was 16. And a cancer survivor. She died yesterday in the #CascadeMallShooting. https://t.co/BeQPZAR5URpic.twitter.com/PN7bpHHJ8R

— Mike Baker (@ByMikeBaker) 25 septembre 2016
Steve Sexton, the mayor of Burlington, described the shooting as a "senseless act."
The attack follows a series of violent outbursts at shopping centres across the United States, including the stabbing of nine people at a Minnesota centre last weekend. The FBI is investigating that attack as a potential act of terrorism.
With regard to the Burlington shooting, there is no known motive.
"We have no indication that we have a terrorism act," said Michael Knutson, assistant special agent in charge of the Federal Bureau of Investigation's Seattle office.
"I can't discount that, but I can't conclude it either."