Jordan: Christian writer on trial for cartoon mocking ISIL is shot dead
Comments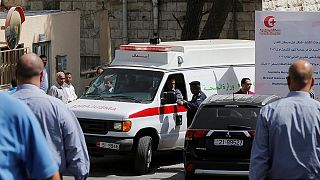 Jordanian Christian writer Nahed Hattar was shot dead on Sunday outside the courthouse where he was standing trial on charges of contempt of religion.
He had been arrested last month after sharing a caricature that depicted a bearded man in heaven, smoking in bed with women and ordering God to bring him food and wine.
The cartoon was intended to ridicule ISIL fighters' vision of Paradise but was considered offensive by many conservative Muslim Jordanians. The authorities said he violated the law by sharing the caricature.
Hattar, who had apologised and said he didn't mean to cause offence, was shot by a gunman three times as he prepared to enter court in Amman.
Jordan writer killed outside court
He faced charges of insulting Islam
Family to "call for government's resignation"https://t.co/ZSYYOfNaqepic.twitter.com/uiai0Ifae5

— Al Jazeera English (@AJEnglish) 25 septembre 2016
Hit in the head, he died later in hospital. For those close to him, feelings are running high.
#UPDATE 'Gunman kills Jordanian writer' charged over anti-Islam cartoon https://t.co/iuc6zH3sDk

— AFP news agency (@AFP) 25 septembre 2016
"The Jordanian people must realise the seriousness of this issue," said Hattar's friend Dergham Halaseh.
"They must unite to fight against the unjust forces that accuse others of being apostates. The government must take a stern stance towards these dark forces. There have been enough crimes committed against our nation, in Yemen, Syria and Iraq. Is that not enough? Jordan can't handle this. Jordan is suffering from the infiltration of these people who are spreading among us."
The suspected gunman, described as a 49 year old Muslim preacher, was arrested at the scene.
Two witnesses said the gunman was wearing a traditional Arab dishashada, worn by ultra conservative Sunni Salafis who adhere to a puritanical version of Islam and shun Western lifestyles.
"The law will be strictly enforced on the culprit who did this criminal act and will hit with an iron fist anyone who tries to harm the state of law," government spokesman Mohammad Momani said.