Ted Cruz endorses Donald Trump days ahead of first US presidential debate
Comments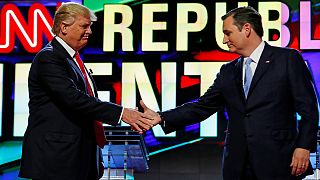 Texas senator and unsuccessful Republican presidential contender Ted Cruz has now endorsed Donald Trump in the race for the White House.
In July he was booed off the stage at a party convention for not openly supporting his former opponent, following a hostile primary battle in which insults exchanged between the pair grew personal.
First presidential debate
The endorsement comes days ahead of the first US presidential debate between Trump and his Democratic rival, Hillary Clinton. She is currently four percentage points ahead of the real estate mogul, the latest Reuters Ipsos poll suggests.
While this could all change after Monday night's (September 26) contest in New York, it's already too late to change some people's minds. Thirty-seven out of 50 states and DC have some form of early voting, giving the electorate the opportunity to avoid the sometimes long queues on election day itself, which this year falls on November 8.
Some commentators predict the 90-minute debate in Hempstead, New York, will attract a Super Bowl-sized audience of some 100-million American viewers.