'Balkan route' leaders meet in Vienna to tackle migration crisis
Comments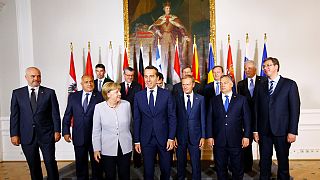 The so-called Balkan migration route has been the focus of attention at a summit in Vienna of leaders from affected countries.
Among those welcomed by Austria's Chancellor Kern were Germany's Angela Merkel and Hungary's Viktor Orban, who have been at loggerheads over migration policy.
Orban proposed that Europe should set up what he called a "gigantic refugee city" on the coast of Libya where asylum requests from African refugees could be processed.
Also present was Greek Prime Minister Alexis Tsipras, who has pleaded for more solidarity towards his country where the route's closure has blocked tens of thousands of migrants and refugees.
Austria and Slovenia have called for greater cooperation to reinforce the EU's external borders and reduce illegal immigration.
Overall numbers have fallen partly due to a deal between the EU and Turkey which has agreed to prevent people from leaving its shores – but the future of the accord is in doubt.
Last week EU leaders agreed to reinforce Bulgaria's border with Turkey and intensify security cooperation.
Euronews correspondent Gábor Tanács reported from Vienna:
"Countries along the Balkan route have a habit of bickering – but also of cooperating. The question is which habit will prevail as they try to handle the migrant crisis".