All-Star Kevin Garnett quits the NBA after 21 glorious seasons
Comments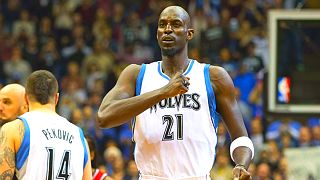 For 21 seasons Kevin Garnett has graced the NBA with his basketball skills, but now the all-time legend has announced his retirement on social media with a farewell video.
He joins future Hall of Famers Tim Duncan and Kobe Bryant in bowing out of the sport in 2016. He was also a huge personality the NBA will struggle to replicate.
Aged 40 Garnett leaves behind a legacy of rare intensity and power forward play, but does he feel too old to go on?
"It doesn't matter, you know, playing, being able to be effective, to be out here physically,to compete, but you know the league is getting younger by the day," he told reporters.
Garnett breaks his contract with the Timberwolves, the club where he began before his glory years at the Boston Celtics where he won the NBA, and a stint with Brooklyn before returning to Minnesota. He earned a record 330 million dollars plus in his career, earning him the nickname "The Big Ticket".
He was also a 15-times All Star, and is currently 17th on the Career Points table, 9th in Career Rebounds, and 17th in Blocked Shots.