Syrian Army announces new offensive in rebel-held eastern Aleppo
Comments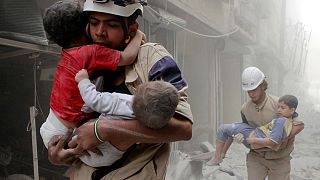 The Syrian Army, has announced a new offensive in the rebel-held east of Aleppo, days after a week-long ceasefire crumbled.
Since the end of the truce, war planes have pounded the country's largest city with its heaviest air strikes in months, killing dozens people, reports suggest.
It is not clear whether the new operation will include ground troops, but state media reports the Army has prepared exit points to ensure civilians can flee.
The announcement appears to contradict an earlier statement by Russia, which backs the government in the more than five-year civil war.
Foreign Minister Sergei Lavrov said Moscow would keep working to reestablish the truce, but both sides would have to make the necessary efforts, he added.
"We will keep working to reestablish the ceasefire. There have been attempts on the part of some of our colleagues to suggest that the government should take unilateral steps, but we insist that the opposition should also take the necessary steps and we have support of others on that," Lavrov told reporters.
Talks in New York between Russia and the US, which supports opposition rebel forces, failed to result in a newly-brokered ceasefire.
US Secretary of State John Kerry claimed only one side was trying to maintain the peace.
"We can't be the only ones trying to hold this door open. Russia and the regime must do their part or this will have no chance," he said. "The question now is whether there remains any real chance of moving forward, because it's clear we cannot continue on the same path any longer."
UN envoy for Syria Staffan de Mistura described the exchange between Moscow and Washington as "long, painful and disappointing." However, Kerry said further consultations would be held on Friday (September 23).