Denmark's emerging right-wing party
Comments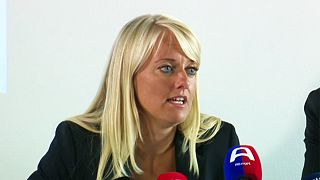 A far-right political party has emerged in Denmark after gaining the 20,000 signatures needed to stand in an election.
Borgerlige which roughly translates as 'new right', ('new liberals' or 'new bourgeois') is pushing for an EU membership referendum, tougher immigration rules, and lower taxes.
The main policies
The party also hopes to refuse entry to all refugees at the border, limit public benefits to Danish citizens only and deport foreign criminals immediately.
Pernille Vermund who founded the party in 2015 told a press conference she hoped:
"To stop the process of asylum cases in Denmark, to demand that foreigners are able to provide for themselves, and of course to deport criminal foreigners after the first conviction."
Mormor foragter denne melankoli efter gamle dage. Hun savner hverken vinterkulde på børneværelset eller pantelåneren https://t.co/Fe6e7T50QC

— Mattias Tesfaye (@mattiastesfaye) September 23, 2016
The tax reform issue
The next Danish general election must be held on or before the 17th June 2019.
Though the nature of coalition politics means that the Danish PM, Lars Løkke Rasmussen, may have to call an election earlier if talks on tax reform next month fail.